Kitty Finklea, nutritionist for McLeod Health & Fitness Center & Florence's BIGGEST LOSER's resident expert, held her second training with the BIGGEST LOSER contestants last night.  She focused on two of the three "challenge" areas: eating out and cooking in.  (The third, grocery shopping, we will talk about next week.)
Make sure you read the Morning News next Wednesday to get an overview of what Kitty discussed, but one point we want to reiterate here, for everyone, is the importance of proportions.  As I discussed in one of my previous posts, you can eat healthy all day long, but if you are still eating too much, you won't see weight-loss.  The difficult thing is how to know what a proper proportion is – last night, we gave away a kitchen scale but not everyone has that.  So how can you know?
Luckily, there are a few tricks to help you keep within a proper proportion range while eating using items that are always handy, different body parts like your hands, fingers, etc.  Word of CAUTION, if you have big hands, don't let yourself get away with having "oversized" proper portions because of this.  Portion charts like this one are based on the body type of someone like Kitty so if you think your hands are larger than hers, scale back your portion sizes.  Another good article addressing proportions is here.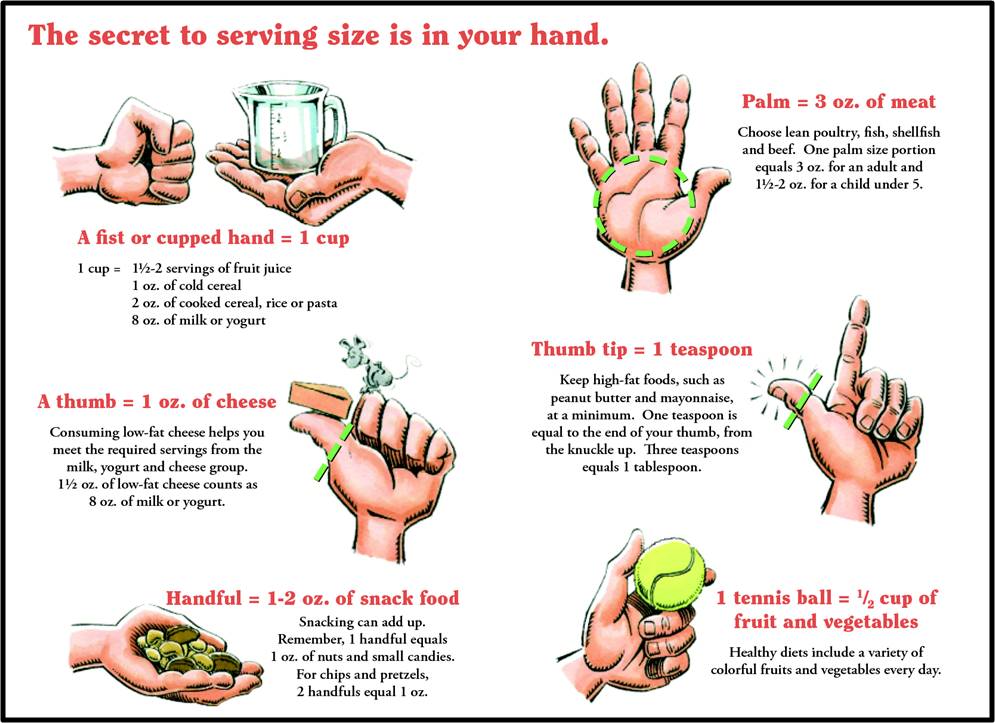 The second difficult thing is, of course, making the choice to ONLY eat your proper portion.  That, my friends, is internal.  You need to learn your triggers and cravings so that you can strategize a way to work around them.  You might try closing your eyes and visualizing all the reasons why you want to lose weight before you look at a menu or prepare you plate.  Or, literally, carry a list of reasons that you can hold and read before each meal.  If these don't work, then try something else and keep trying.  There is a strategy that will work for you.  LET'S DO THIS THING!